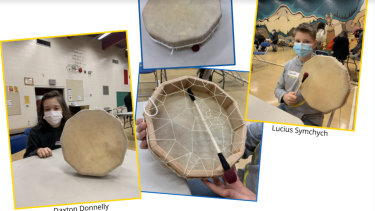 Drum Making Workshop - Finding Our Voice
April 7, 2022
Grade 5 Indigenous students across Abbotsford School District came together to meet new friends at the Indigenous Education Centre for a Drum Making Workshop in February. 
The students each made a special drum to keep or to gift to someone special. 
Each student had the honor of making a drum with Knowledge Keeper, Darren Charlie from Sts'ailes First Nation. Students learned the teachings of the drum and how to care for their drum. Students learned about the importance of finding their voice, and being proud of who they are and where they come from as Indigenous people.
Students will also have the opportunity to share these teachings with their peers in grade 5 once they go back to their school and the Indigenous Support Worker from each school received the book called The Honour Drum to share with all Grade 5 students in their schools.