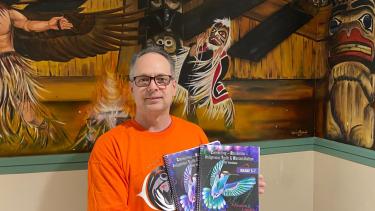 Working Towards Truth and Reconciliation
September 22, 2022
The Honourable Senator Murray Sinclair remarked in an impassioned plea that "we need to pursue reconciliation consistently and passionately. Education has gotten us into this mess, and education will get us out. We see this as our challenge and our hope."
The following story is inspired by passion and anchored in providing hope for the future. The Abbotsford School District has an Enhancement Agreement from 2019-2024 which seeks to ensure success for Indigenous students at school. In that agreement, educators are expected to implement a curriculum that infuses Indigenous content and perspectives for all students. A collection of excellent resources can be found online in the Ray and Millie Silver Indigenous Library. 
Approximately one and a half years ago, Clayburn's Library Learning Commons teacher and Indigenous Education Champion, Douglas Williams, was searching for resources to share with staff members and was having trouble finding what he was looking for. Doug collaborated with Sydney Ned, an Indigenous Support Worker at Clayburn for guidance and ideas. He then reached out to contacts at Staples Canada and Classroom Ready curriculum developers. Both generously agreed to donate time, money and resources to support a Resource Guide that would become "Connecting – Resilience – Indigenous Truth & Reconciliation" (CRITR Workbook). The workbooks have lessons by several Indigenous contributors such as: Pamela Rose Toulouse, Len Pierre, Dallas Yellowfly, Legacy of Hope Foundation, Moose Hide Campaign, Indian Residential Schools Survivor Society and the Orange Shirt Society. In many ways, the objective for this project has already been fulfilled as it came to print. The prospect of teachers and students taking the journey towards Truth and Reconciliation and passing on this knowledge to others gives us all hope for the future. 
Where to Find This Resource:
If you are interested in learning more about the Truth and Reconciliation workbook, please see below.
To obtain the product directly from Classroom Ready send an email message to: 

info

@

classroomready.com

 
Alternatively, here is the link to the items on Amazon (which may have limited quantities):
One more option is to visit your local Staples store, which should be carrying the products (now or in the very near future).
NICOLAS COCHRANE, VICE PRINCIPAL
Clayburn Middle