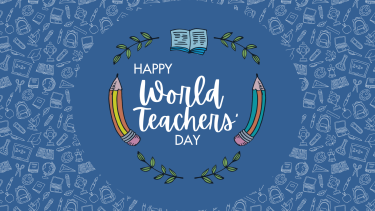 Celebrating World Teachers' Day
October 5, 2022
October 5th is World Teachers' Day, and the Abbotsford School District is celebrating the 1,500+ innovative educators across the district who prepare and inspire our students for a lifetime of success.
Teachers are a cornerstone of quality education systems and play a key role in building inclusive and equitable societies. Today, we celebrate the teachers within our district and commend their dedication, passion and commitment to this profession.
"At the Abbotsford School District, we have a vision of providing a world-class, innovative, and individualized educational experience for each student," says Dr. Stan Petersen, Chair for the Abbotsford Board of Education. "The execution of our vision relies on the outstanding educators in our system who share their expertise, enthusiasm and dedication in our classrooms and schools. Today, and every day, we are incredibly grateful for the work that they do!"
"When children are successful, we not only create bright futures for them, but we build a foundation of optimism and hope for society," notes Dr. Kevin Godden, Superintendent of Schools. "The success of our students can be attributed to the commitment of our educators, who continue to show inspiring resilience, collaboration and dedication to student learning during some of the most difficult seasons we have seen in education, and beyond."
United Nations Organization for Education, Science and Cultural Organization (UNESCO) first declared World Teachers' Day in 1994, and it has since become an annual international celebration of the teaching profession. The day acknowledges achievements in education and gives voice to teachers for their ongoing work in preparing students for a bright and hopeful future.
Thank you, #AbbySchools.