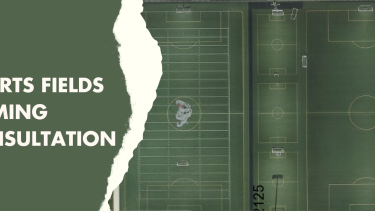 Naming consultation for Sports Fields commences
April 22, 2022
The Abbotsford School District is now accepting submissions from the public for the naming of sports fields located between Colleen & Gordie Howe Middle School and W.J. Mouat Secondary School. At a winter Public Board meeting, Trustees requested that the Secretary-Treasurer commence the process of naming the two sports fields. Since that time, a Field Naming Committee has been constructed to include two Trustees, the Mayor from the City of Abbotsford, the Principal from Colleen & Gordie Howe Middle, the district's Communications Manager, Indigenous representatives, the school PAC president and one community member.
"We encourage our community to share their voice and submit names to be considered for these two spaces," said Dr. Stan Petersen, Chair for the Abbotsford Board of Education. "Name submissions should be based on individuals who have made positive contributions to society, the current or historical areas served by the schools, geographical elements, and the diversity of the school communities in Abbotsford."
In 2017, the W.J. Mouat Secondary sports field was named Latham Field after former principal, Jim Latham. This field is not one of the fields that will be renamed as part of this community consultation. The submissions will be for two fields and should include a name for both fields or one name and differentiated by a number. (E.g., Sports Field 1, Sports Field 2.)
As per Board Policy 21, the following criteria must be considered when submitting a name for school district facilities/property:
2.1 The Board will approve facility names based on notable Canadian and international figures (e.g., humanitarians, historians, government leaders, people involved in such fields as sports, sciences or the arts) or for people or places important to the local community or geographic area in which the facility is located.
2.2 Wherever possible, if the building/property is to be named in honour of a person, the consent of the individual will be obtained. If it is to be named posthumously, except for a person of distinction, the close surviving relatives should approve.
Additionally, Indigenous and/or Halq'eméylem names will also be considered within the criteria considerations.
Submissions will be collected until May 3rd, 2022, at 4 pm via the Engage Portal. The Field Naming Committee is set to bring a report of options to the Abbotsford Board of Education at the June 14th Public Board meeting.
---
MEDIA CONTACT
Kayla Stuckart | Manager, Communications
Ph: (604) 614-5207 | kayla.stuckart@abbyschools.ca